One of the most notorious Italian filmmakers to rise above the ruins of the Second World War has been hailed as The Maestro of cinema. His illustrious international hit
L'avventura
[The Adventure] was released in the same year as Fellini's
La Dolce Vita
(1960). Rather than being face-to-face with down in the dirt visuals of a poverty stricken country, we were shown, what Roger Ebert refers to as a 'cry of despair' from 'parasites whose money allowed them to clear away the distractions of work, responsibility, goals and purposes, and exposed the utter emptiness within'. With this in mind,
L'avventura
challenged our cast-iron ideals of Italian cinema. It's worlds apart from the blue-collar guy trying to get his bicycle back from those pesky thieves…
After directing
Identification of a Women
in 1982, Michelangelo Antonioni became incapacitated by a stroke. Unable to communicate with words, the world thought the career of this seventy-three year old director was over. However, after thirteen years of waiting, with the help of the German filmmaker Wim Wenders (
Wings of Desire
[1987]), this Italian Maestro adapted four short stories from his book
That Bowling Alley on the Tiber
and made
Beyond The Clouds
.
Four vignettes are linked by the brooding contemplation of 'The Director' (John Malkovich). After finishing his latest film, he hops on a plane to Ferrara in northern Italy to scout for new locations. As he walks through the ancient streets, taking photos and making notes, musing on the ghosts of his imagination, situations of love pass through his mind…
A Love Affair That Never Existed
, is a story of two strangers that fall in love. After spending a day together in the mysterious city of Ferrara, Silvano and Carman embrace in a passionate kiss but go their separate ways. Three years later, they bump into each other again. Silvano goes back to Carman's apartment. He expresses his love by moving his hands across her naked flesh. Without notice, Silvano gets up and goes. They share a final gaze through the window as Silvano walks down the long empty street and fades into the distance…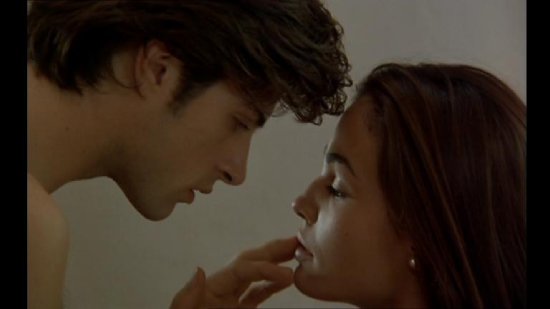 The Girl, The Crime
, follows the director as he becomes part of his own story. Visiting the fishing village of Portofino in Italy, he becomes interested by a young woman (Sophie Marceau) that has killed her father. They feel compelled to share their bodies. There is no love, just an unspoken need for sexual passion. The director captures her essence in his notes. ..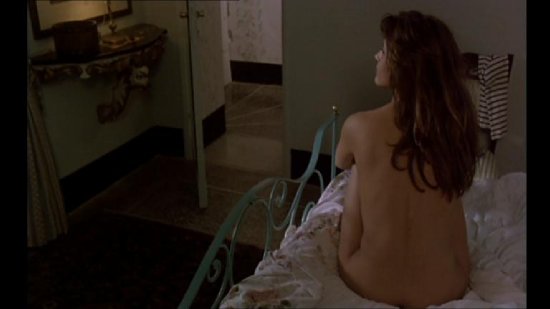 Don't
Try to Find Me
focuses on an affair between a married man (Peter Weller) and his mysterious mistress (Chiara Caselli). The man's wife, Patricia (Fanny Ardant) knows what is happening and forces her husband to make a decision; stay with the mistress or with me. The Husband says he still loves his wife but is unwilling to give up his mistress. Patricia makes the decision to move out to live in a high-rise apartment. She is introduced to Carlo (Jean Reno), who's partner has left him for another lover. They find comfort in each other's sadness with a warm embrace…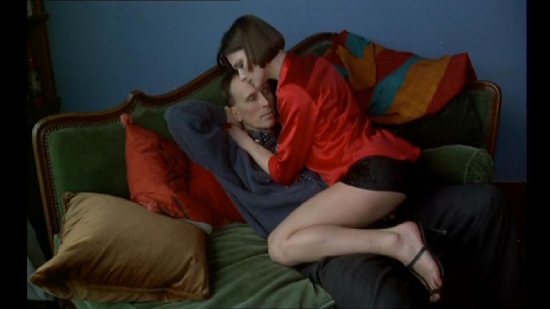 This Body of Filth
follows Niccolo (Vincent Perez) as he attempts to talk to The Girl (Irene Jacob). Even though Niccolo tries everything in his power to get her attention she is not interested by his charm. The Girl drinks from the reserved waters of religion and is afraid of life while Niccolo drinks from the colourful waters of life but is afraid of death. Arriving at her apartment The Girl stands by her door. Niccolo asks if they can meet again. She tells him she is to become a nun in the morning and locks her door. Niccolo runs through the empty rain drenched streets and fades into the distance…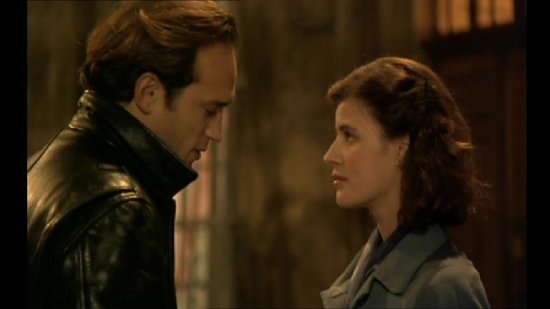 As the camera floats through random windows The Girls apartment block, the song
'Your Blue Room'
by U2 and Brian Eno plays over the imagery. A woman grips a teddy bear, a couple have sex, a woman writes in a diary and The Director reflects on his visions against the rain-drenched window as he fades into the shadows…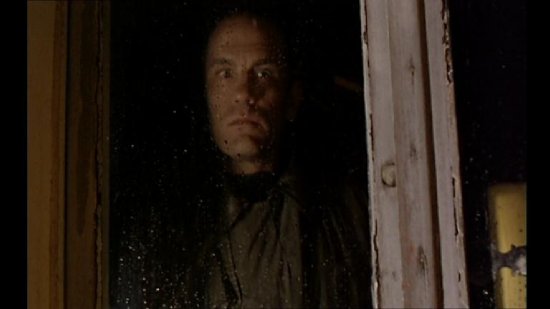 The great thing about
Beyond The Clouds
is that each vignette has its own distinct sentiment. There is an unrequited love to the first, a voyeuristic rapture to the second, an emotional detachment to the third and a melancholy sadness to the last. It's an intriguing piece of cinema that's filled with an ambiguous attitude to emotion. It flaunts a multitude of female acting talent from the likes of Fanny Ardant (
8 Women
[2002]), Irene Jacob (
Three Colours: Red
[1994]) and Sophie Marceau (
The World Is Not Enough
[1999]). Nudity plays a big part in their appearance. Nevertheless, it's not just about their physical nakedness; there is also an emotional nakedness, which is expressed through John Malkovich's performance as The Director.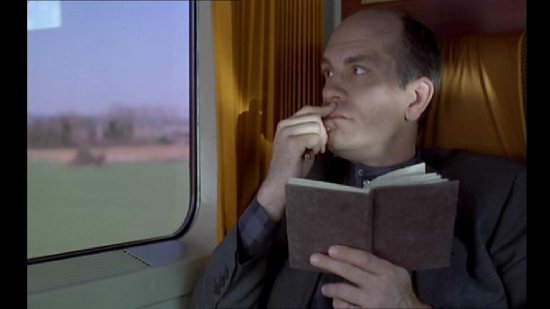 Malkovich conveys a sense of detachment to his surroundings. It's as though he's walking through a dream of himself, observing the landscape as it floats by, absorbing titbits of information in his notebook. His voice-over reflects this as it is filled with existential musings on the subjectivity of reality, 'I only discovered reality when I began photographing it'. There is a great dream-like sequence with Malkovich that purports this. As he walks through a deserted beach. He observes the environment with abject curiosity. Objects move with the wind, seagulls cry and the sound of waves move against the shore. He finds a photograph and walks towards a swing, sits down and ponders on the image while he spins around and looks beyond the clouds. The wind creates a dust cloud of sand against the ground. It's a sequence that superbly captures the magic of reality.
Antonioni has been criticised for these types of lingering shots, as they don't enhance the story. However, in his world, creating a distinct mood is much more important than developing a false progression of plot. The film is filled with this kind of delicate flavour, from the sound of people walking on wooden floors, to the sound of rain against cobbled streets. Virginia Wexman (author of
A History of Film
) sums up this maestros style by saying, 'In Antonioni's work we must regard his images at length; he forces our full attention by continuing the shot long after others would cut away.' In Beyond The Clouds conversations are filmed with a sense of voyeuristic verisimilitude, the camera floats around its landscape, attaching itself to characters while dancing around their conversations.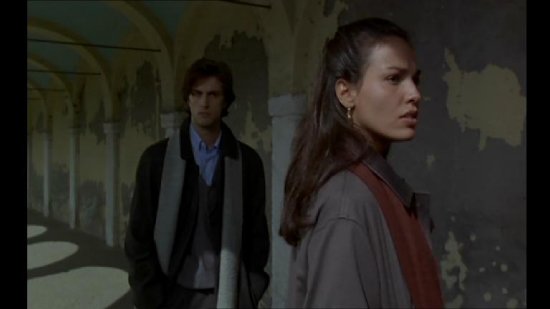 Antonioni would rather focus on the intuitive sensations of life rather than developing an artificial plot. Malkovich's character sums up Antonioni's style as he travels on a train observing his landscape, 'rather than thinking things over I prefer to feel them'. This is what
Beyond The Clouds
is all about, the exploration of human emotions and how we react to love rather than a psychological and philosophical concept of it. As a filmmaker the challenge is to capture the magic of human emotions in all their complexity, Antonioni has achieved this with alluring clarity.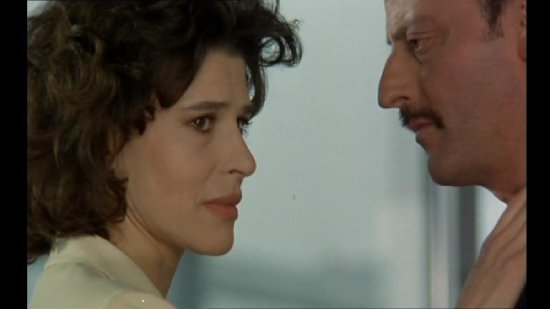 Verdict:
Beyond The Clouds
is a rhythmical love letter to the various aspects of our emotions. It doesn't fall into the trap of being ostentatious or artificial. Its mysterious approach needs to be felt rather than understood.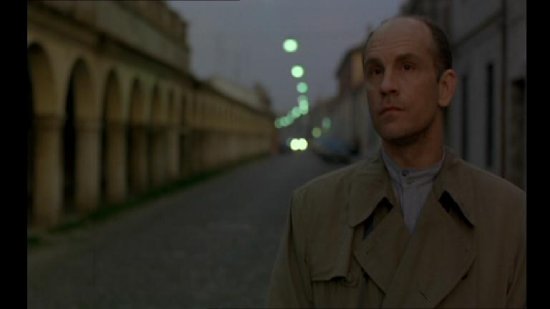 Disk:
With a release like
Beyond The Clouds
it would be easy to slap the film on a disk, put it in a box with a fancy sleeve and call the trailer a special feature. However, thanks to the enthusiasm of Second Sight they have included a 52min documentary,
To Make a Film is to be Alive
by Antonioni's wife Erica. It charts the making of Beyond The Clouds with interviews from a selection of cast and crew including Wim Wenders. It's obvious that Wenders acted as a conduit for Antonioni, after suffering from a stroke he could barely walk or talk. In this respect, there is sadness to this documentary. It becomes evident that his wife must knew this was to be Antonioni's last film. It's a sort of epigraph to his life. The second feature, a 30min audio essay by film critic Seymour Chatman (author of
Antonioni, or the surface of The World
and
Antonioni: The Complete Films
) just goes over the plot with random production stills. The transfer of
Beyond the Clouds
is breathtaking; the razor-sharp picture captures the nuance of the cinematography in all its splendour.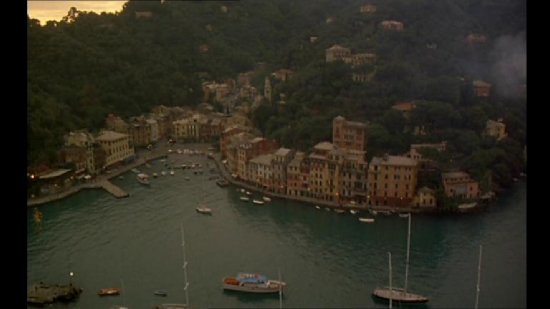 Trivia
Michelangelo Antonioni is best known in the English speaking world as the director of
Blow-up
(1966),
Zabriskie Point
(1970) and
The Passenger
(1975).
Wim Wenders wrote an account of his experiences working on the film,
My Time with Antonioni
.
Antonioni was 94 when he passed away on the 30th July 2007, it was the same day another cinematic giant also died, Ingmar Bergman (
The Seventh Seal
[1957]).
The woman who works in the clothing shop with Sophie Marceau is Antonioni's wife Enrica.