YIWU is located in the center of Zhejiang province,lies in the south of Shanghai and Hangzhou, the distance from Shanghai to Yiwu is 260 km, and Yiwu is only 120 Km away from Hangzhou.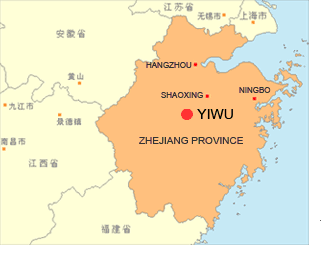 Guangdong Province and Fujian Province is on the south of Yiwu, Shanghai Economic Zone is on the north, Ningbo port is on the east. The distance from Shanghai to Yiwu is 260 km, from Hangzhou to Yiwu is only
yiwu fair 2015
120 km. Yiwu is the favorable place to do economy developing and investing.
Provided with subtropical monsoon climate, Yiwu has four clear seasons, relaxing climate, abundant sunshine, yearly average temperature is 17.2℃, yearly rainfalls would be 1403.1mm, and yearly humidity is 76%. As the gold autumn, October is best time to hold fairs with the advantage of monthly average temperature 18.7℃, rainfalls 67.7mm, humidity 77%. It is the best time for trade, traveling in the refreshing air, breezing wind and sunshine. There are many scenic groups
yiwu market
around Yiwu, such as West Lake, Qiandao Lake, and the Double-dragon cave of jinhua. Yiwu is a charming international trade city. We are honorable to welcome everyone from all around the world.
site: http://en.yiwufair.com/wizard/location/